At Luft Financial, everything we do is aimed at one thing – helping you and your family attain lasting financial peace of mind. From getting a deeper understanding of what you want to achieve to creating and managing your portfolio with care and attention, we pledge to always elevate your financial well-being and goals above our own.
Our team
Each member of our highly skilled and experienced team works collaboratively to provide you with the highest level of knowledge, expertise and personalized service to elevate your wealth, achieve your goals and fulfill your dreams.
Portfolio Managers
We are an Award Winning Firm
Robert Luft has been recognized as one of Canada's Top Wealth Advisors by Globe & Mail 2021!
Globe & Mail Canada's Top Wealth Advisors
The Luft Financial Team has won a 2021 5-Star Top Teams Award by Wealth Professional Magazine!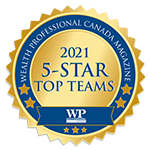 Robert Luft makes his 6th consecutive appearance on the Top 50 Advisors list in Wealth Professional Magazine!